2018 Audi A3 For Sale In Liberty Lake
When you see how visually pleasing the showroom floor is at the Audi Spokane Valley dealership, you'll know this is a business that's fully invested in what they do. The only thing that exceeds the sleek décor is the unparalleled level of attention you'll receive when researching what Audi you need in your life right now. Proudly serving Spokane Valley, Coeur d'Alene, and Liberty Lake, this dealership will exceed all of your expectations. Call ahead for a test drive simply pop in to get the undivided attention you deserve for all your Audi needs.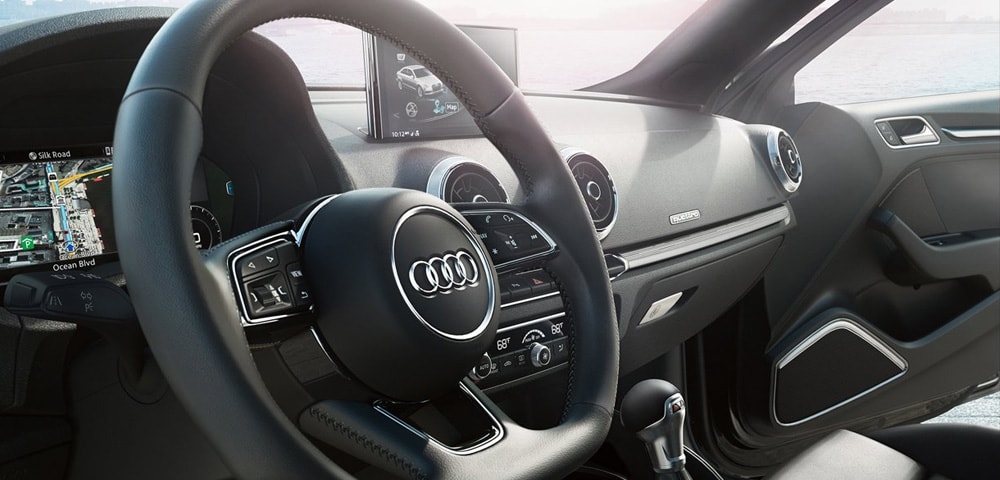 Does the Audi A3 drivetrain come in only front-wheel drive?
No, the Audi A3 for sale offers both Quattro all-wheel drive and front-wheel drive, depending on your preference. As for the engines on the 2018 Audi A3, two engines are available. The first is a 2.0-liter, 4-cylinder turbocharged engine capable of 186 horsepower and 221 pound-feet of torque. And the second is a 4-cylinder, 2.0 turbocharged engine that reaches 220 horsepower and 258 pound-feet of torque. In other words, this is no ordinary sedan. 


Can a sedan handle a long road trip? Is the Audi A3 sedan a high tech vehicle?
Not only does the Audi A3 have a very spacious interior with plenty of legroom, but its many interior highlights also make this an ideal vehicle for hitting the open road. Its cozy leather seating, split folding rear seatbacks, heated front seats, and twelve-way power front seats including four-way power lumbar adjustment make any trip feel like a day in the spa. The only issue might be getting everyone to leave the car once you're there.  
Of course, safety would also be of the utmost importance. With knee airbags, front head/thorax side airbags, front passenger advanced airbags, Electronic Stability Control, and secondary collision brake assist and traction control; the peace of mind this provides is well worth the Audi A3 price.  
Is the Audi A3 sedan a high tech vehicle?
Like all Audis, the 2018 Audi A3 does not disappoint when it comes to technology. With a rear view camera, Bluetooth wireless technology, an Audi music interface with two USB ports, and an Audi concert radio with nine speakers, this is entertainment on wheels. You certainly don't have to worry about missing out on anything while out due to a lack of technology.