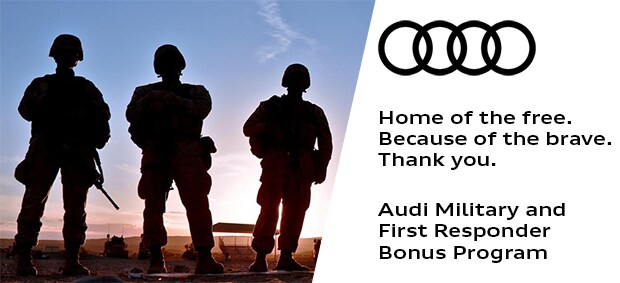 Military Select Bonus Program
Audi Spokane thanks you for your service.
Audi Spokane
is pleased to offer the Military Select Bonus Program.  This is extended to current and former service members of the United States Military and First Responders.
When you purchase a new, untitled 2017 or 2018 Audi model, you'll receive $500 in Bonus Cash.
*Program is extended to U.S. Military active duty, U.S. Military Reserve and Retirees, U.S. Military Veterans, First Responders and their spouses. Acceptable documentation for Military Members include: Leave & Earnings Statement, DD Form 214 or Certificate of Release or Discharge from Active Duty. Spouses must provide spouse's LES. First Responders (Police, Fire or EMT) must provide a copy of a valid proof of service such as a pay stub, badge or official identification. This program is compatible with the following programs: Audi Owner Loyalty Program, Audi Acquisition Programs, Dealership Employee Purchase Program (DEPP), Contract Employee Purchase Program (CEPP), Affinity Program (AP), and Audi Financial Services (AFS) Special and Standard rate programs and all Marketing Allowance Programs. This program is NOT compatible with the following programs: Dealer Small Fleet Incentive (DSFI), Courtesy Vehicle Program (CV), VIP Program (VIP), or European Delivery. Offer ends July 2, 2018. Audi of America Bulletin #A18UMK05. ©2018 Audi of America, Inc.